The History Faculty offers a range of extracurricular activities, competitions and clubs.
Back to main History Faculty page
SCROLL DOWN TO FIND OUT MORE ABOUT:.....
Regional History Debating - Year 10
Inter-class History Debating - Year 9
Mastermind Competition - Year 7
Philosophy Club - Years 10-12
National History Challenge - Years 7-12
---
DEBATING
Year 10 Regional History Debating Competition
CGHS has participated in the Les Gordon History Debating Competition since 2012. This competition is a knock out style competition (win the round to proceed to the next), involving public and private schools from the Sydney region debating matters of historical significance. These topics tend to be drawn from the Year 9-10 Australian History syllabus. 
Every year in mid Term 1, open try-out's are held for any Year 10 student interested in representing CGHS in this competition. The team will consist of three speakers, a team adviser and a research assistant.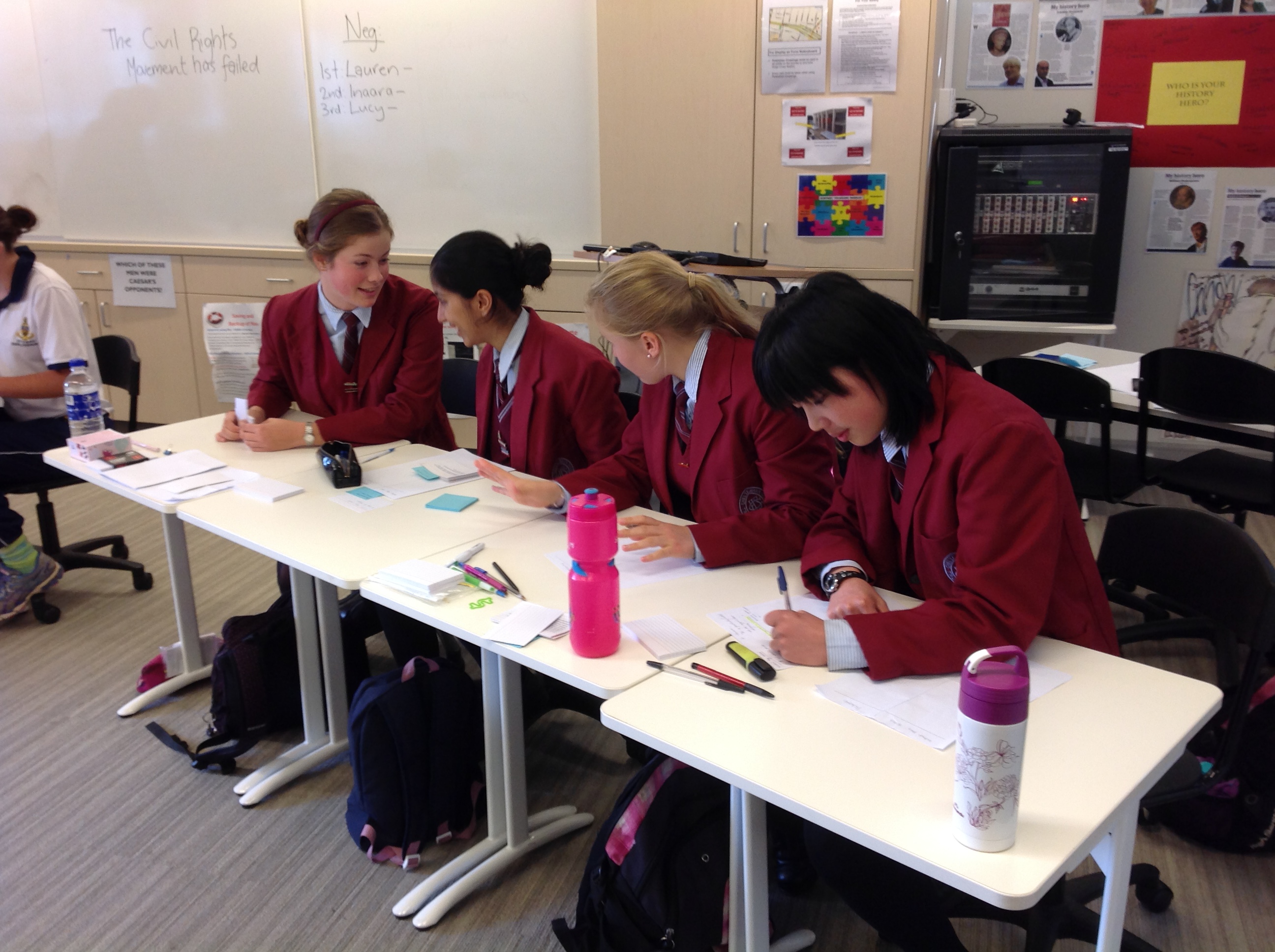 We typically have an enthusiastic turn out with try-outs running for several days. Students do not need to have participated in the Year 9 History Debating Competition to try out for this team. Students also do not require any previous debating or public speaking experience, although such experience may prove helpful.
Click here to access the Year 10 History Debating Comp webpage
Members of the 2015 Team                
What our previous history debaters have to say about the competition:
"I really enjoyed the experience. It allowed me to learn about history in a fun and social way. I definitely encourage you girls to try it!" - C.A., 2013 Team
"It was a real challenge - even as team adviser... the challenge was exhilarating" - J.G., 2012 Team
"History Debating has helped me develop into a more confident person and I feel like I have more extensive knowledge of the past." - anon. 2013 Team
"History Debating has given me an amazing opportunity to become more confident, analytical and informed. It is a great extracurricular activity" - P.A., 2013 Team
Enquiries about this competition can be made to the History Debating Coordinator: Ms. Melda Koparan or to Ms Tara Ellam
Year 9 Inter-class History Debating Competition
All 7 mandatory History classes plus the Elective History class will participate in a school based historical debating competition. Each class will be represented by one team of 4 students (including a team adviser). All debate topics will be based around the topics studied in the Year 9 History course.
This is a knockout style competition comprising three rounds. In the first round all 8 classes will participate with the four winning teams proceeding to Round 2: Semi Finals. In the Semi Final round, the four teams will face off in two debates. The winning two teams will proceed to the Grand Final Round. The Grand Final will be held in Term 4 as an incursion in front of all of Year 9.  
The current Year 10 representative History Debating team will train the Year 9 teams in historical debating skills and offer advice for competing. 
The Grand Final will be adjudicated by two History teachers and at least one Year 10 Representative History Debater.
As an example, the 2013 Grand Final topic was "That modern history is more important than ancient history". The 2012 Grand Final topic was "That Australian history is boring!"
Enquiries about this competition can be made to the Year 9 History Debating Coordinator Ms. Tara Ellam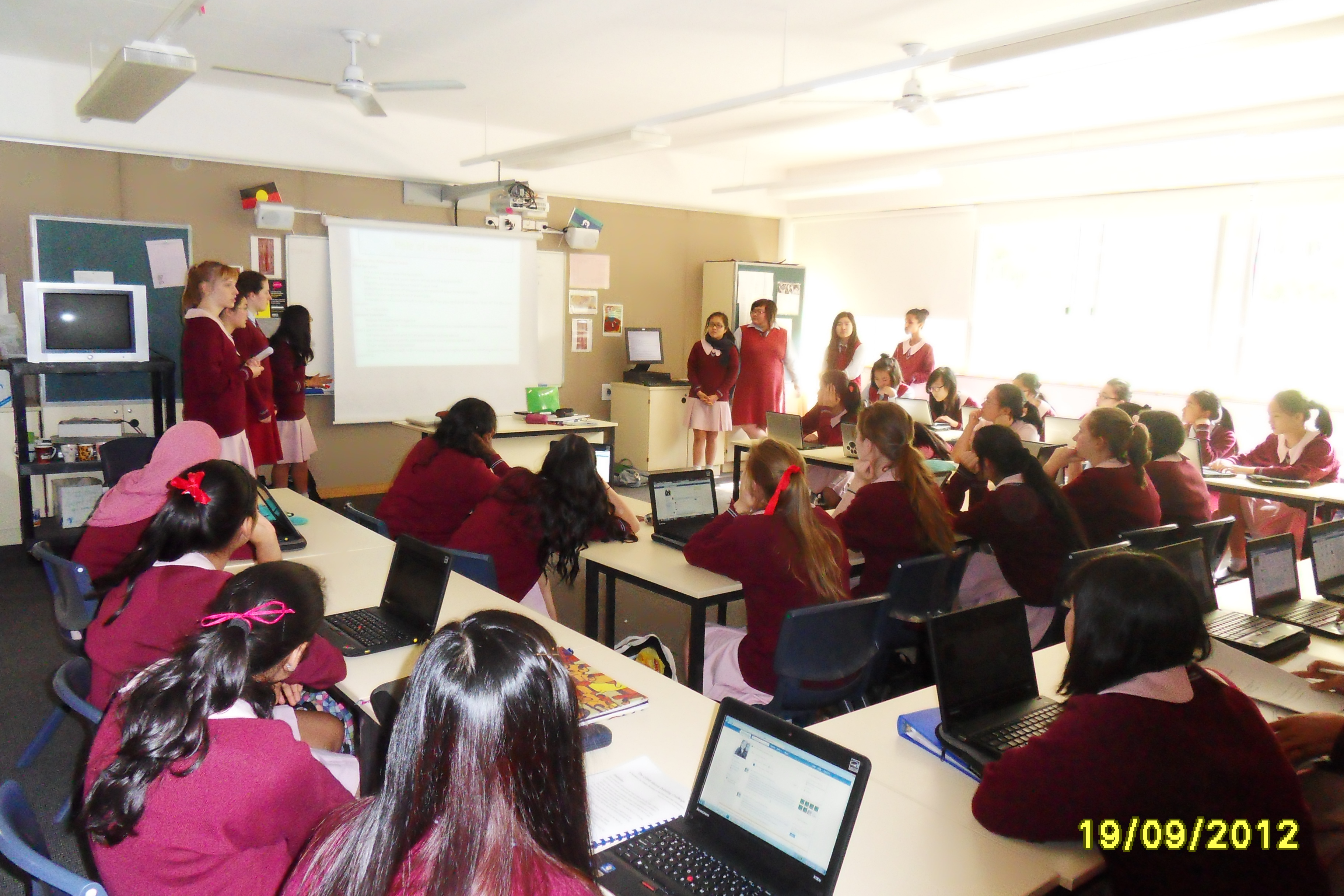 Year 10 Regional History Debaters train the Year 9 teams in historical debating skills.
---
Junior History Mastermind Competition
2014 is the first time CGHS has entered the History Mastermind competition. This year we have one team of Year 7 students representing CGHS and pitting their historical knowledge against schools from the region.
The History Mastermind competition is organised by the History Teachers Association of NSW and is a trivia competition based on the Stage 4 History syllabus.
The competition involves a team of four students who will compete against other schools on topics such as Ancient Greece, Egypt and Rome, Medieval Europe, current affairs and Aboriginal History to 1900.
This competition is a great opportunity for Years 7 and 8 students to get involved in an academic extracurricular History activity.
For more information about CGHS involvement in this competition, you can refer to the  Year 7 Mastermind Competition
Coordinator: TBA
---
CLUBS
The Philosophy Club: The Sokratic Society
Open to senior students in Years 10, 11 or 12.
This club meets fortnightly to discuss philosophical issues, dilemmas, conundrums of ethics, logic, metaphysics, epistemology and more.
Students interested in joining can put their name on the waiting list. 
Coordinator: Ms. Tara Ellam
For more information about us, please visit the Philosophy Club.
Source of Picture above : 'Wisdom Begins in Wonder'
http://quotesnsmiles.com/wp-content/uploads/2013/08/wisdom-Socrates-Picture-Quotes.jpg
---
COMPETITIONS
National History Challenge
The National History Challenge is a research-based competition for students. It gives students a chance to be an historian, researching world history, examining Australia's past, investigating their community or exploring their own roots. It emphasises and rewards quality research, the use of community resources and effective presentation.
The theme for 2018 is "Turning Points"
Any enquiries about this competition can be directed to the Competition Coordinator : Ms. Tara Ellam
For more information visit http://www.historychallenge.org.au/ or see Ms Ellam
---
Back to main History Faculty page
Banner Picture Credits
http://www.keepcalmandposters.com/posters/84201.png

http://www.uclan.ac.uk/courses/assets/images/philosophy_teaser_new.jpg